How to apply for a study visa? What if my study visa gets refused? Which is the best college/university to apply for a study visa in a particular country? Where can I pursue my study overseas at least expenses?
These are some of the common questions that always strike the mind of students who want to study overseas. Being the best study visa consultant in Chandigarh, we know that getting a visa study visa these days is a challenging process, especially when you are not familiar with the processing.
If you want to apply for a study visa, Career Overseas is the right destination to help you. We are committed to shaping the students' future by providing them with our best guidance about the study and which education platform is right for them.
Our team intended to assist the students and help them get their study visas in the most reputable universities of the countries they desire to go to. We believe in providing end-to-end assistance to cater to the students' study visa needs and help them shape their future.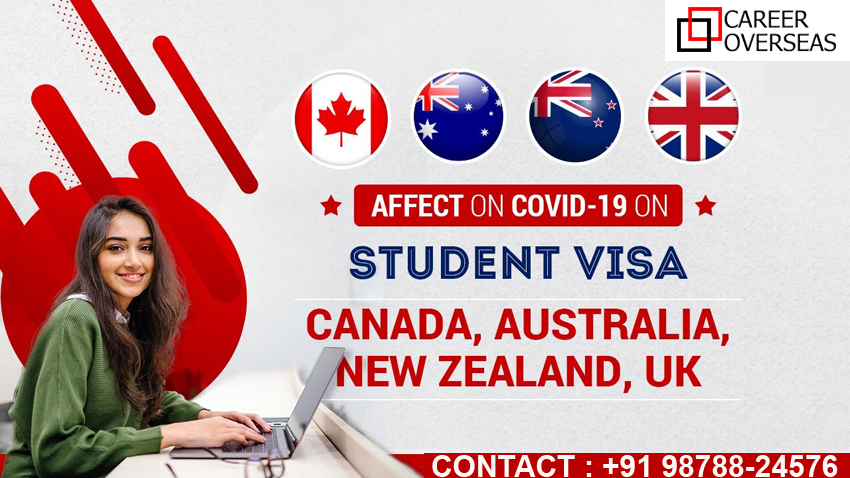 Top Countries in Which Students Can Get Study Visa
Career Overseas is a big name for study visa consultants who successfully offer study visa consultancy services in top-notch universities like the USA Study Visa, UK, Canada, Australia, Ireland, New Zealand, Malaysia, Mauritius, and Germany.
We always ensure that students never face hassles and delay getting their offer letters from the universities applying for a study visa.
How We Help Students to Get Their Study Visa?
We aim to help students by providing detailed counseling about career options and universities to take admission easily. Moreover, Career Overseas takes pride in providing the best educational consultant team, who guide you throughout the journey.
We help students with their documentation process.
Our team maintains transparency to ensure that students get what they want.
We guide you about all the requirements and necessary things that help you get your visa faster.
Our honor is that we can help students get their visas in any country they want to study and move to build a successful career. Our expertise is self-explained from the previous client testimonials and how we help them overcome their problems and get study visa under our guidance.
Why Career Overseas for Study Visa Consultancy Services?
For more than 15 years, we have been offering our career counseling services. We have well-trained and highly experienced faculty members who constantly remain in touch with the students and help them get their study visas on time.
We act as a bridge linkage between the students and the universities, so students easily get their visas on time. Even if you face rejection, we still help students and provide them with the accurate reason why their visas get rejected and how we can solve the issues and provide you a visa.
If you have any issues and think visa processing is challenging, let this job be on us. Call now to get the advice of the best consultancy team. Take the first step to call us, and we are ready to hold your hands until you get your visa.